Shocking: Gang Rape in Chennai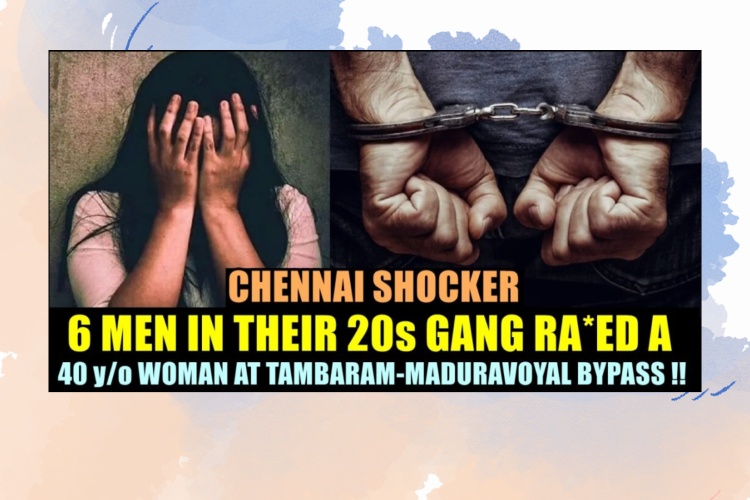 Posted By
11 Aug2022
1 Comment(s)
907 View(s)
In a horrendous report that surfaced in media portals, six men kidnapped a 40 year old woman and gang raped her in Tamil nadu's capital Chennai. The incident took place at Thelliyar Agaram off the Chennai bypass road on Sunday night.
The victim was returning to her home with a family friend in car when the crime took place. A man, at the time, signalled the car to stop. As soon as the vehicle stopped, five other men reached the spot and thrashed the driver, according to reports.
After driving for a short distance, the accused threw the victim's family friend from the car and threatened to kill her if she tries to raise an alarm. It has been reported that the accused took the woman to a isolated place and took turns to rape her.
The six men also stole jewellery from the woman. In the meantime, the woman's friend who was thrown out of the car managed to contact a police patrol to seek help. The Police immediately rushed to the spot and arrested one the accused while other rapists flee from the spot.
Police managed to catch the other rapists by questioning the one who got arrested. Five others got nabbed in a short time by the Police officials. According to police reports, all the six men were in an intoxicated state with ganja.
The six arrested has been identified as S Santhosh (21), S Surya Prakash (21), Dinesh (28), C Karuppiah (27), S Ganesh (19) and S Subash (19). The Police officials also recovered the looted gold jewellery from possession of the accused.
The incident has created huge outrage among the public of the state. It is notable that Chief minister MK Stalin, recently made an announcement saying that the usage of drugs must me completely stopped in the state and warned the officials of becoming a dictator if any unlawful incident takes place in preventing drug circulation.
https://twitter.com/mkstalin/status/1557712782312632320?s=20&t=dtsblLaMANdnPq8jsjDzVQ
"Shaking from reading the Chennai gangrape news. Where is my beloved Chennai going? So many times in the past , I have walked home alone at night… once my car broke down and two young men, total strangers from the nearby slum dropped my kids and me home ! Whatever was Amma JJ's crimes and misdemeanors, One thing was certain- There was no compromise on Women's safety or Law and Order. Is it just me who feels this way? All the girl student deaths… and now this. #CrimesAgainstWomen" actress Kasthuri said through her tweet.
https://twitter.com/KasthuriShankar/status/1557637085527699456?t=BjWYvKt9FgQLohlqZd8yZw&s=19
Source: Chennai memes